Leadership for Global Industry Creation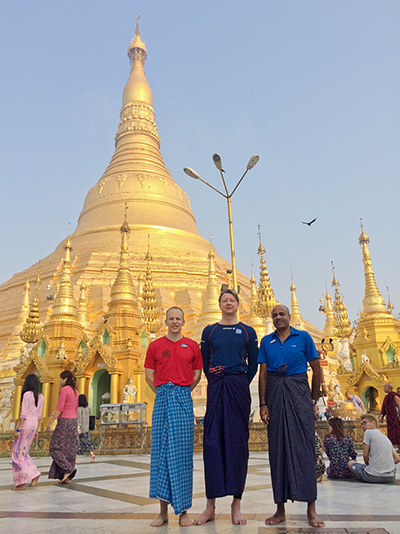 For 25 years I have worked with leadership. In the beginning I was really bad at it, despite my best intentions. During the last of my years in corporate, I was considered one of the best.
But even so, there are many people who do general leadership training for a living and they have no doubt perfected their teaching programs far better than I ever will. There is however a specific field where I can provide a unique perspective:
How to lead when creating an industry

How to lead when building towards billions of users?

The style of leadership required to achieve those goals is fairly unique. Sweden has the most multinational companies per capita in the world, and I am convinced that a key success factor is the leadership culture among the key leaders.

In the photo above, from March 2014 at Swedagon Pagoda, Yangon, Myanmar / Burma, I stand together with two of my leadership heroes. (No affiliation with LS Future Technology - merely a proud memory with two leaders to whom I owe some of my best learnings.) At the time, I was CTO for Ericsson Myanmar, an office we built up from scratch to about 600 people in 3 years. Mobile communication changed the country over-night.
No 2nd best
As the past two decades have shown us, in the tech space, there is often no runner up.
There is practically no 2nd best Google search, no 2nd best Facebook/Instagram (on the western market) and no 2nd best mobile system (anywhere). The #1 winner takes almost everything, and the remaining 999 companies get to share the scraps. This is one of the most important insights both when it comes to tech investment and leadership in tech companies.
At Ericsson, with 2G GSM we beat Nortel's CDMA, Japan's PDC, iDEN and D-AMPS. With 3G WCDMA we beat EV-DO. With 4G LTE we beat Intel's WiMAX. In 5G IoT, NB-IoT / CatM1 is coming for Sigfox and LoRa. In each of those technologies, there were hundreds of tech companies that either had a "promising future" and were already "too big to fail". We beat them all or won them over.
The leadership required to build an industry is quite different from what is needed to play a part in an existing one. Contrary to what many people guess, it is not about ruthlessly beating the competition, quite the opposite. Building an industry is about collaboration, about lifting each other up, about finding the best experts on earth and giving them a safe haven to do magic. It is about judging bad ideas slowly, forgiving failures quickly, and celebrating small victories often. It is about building trust over decades. It is about seeing key people as family, standing up for them, letting the team feel secure enough to try the impossible.
In tech there are often only two outcomes - a giant success, or a monumental failure. Leadership in that environment is about realizing that it is better to be a smaller part in a big success than a big part of a failure. That means helping people up who are better than me, rather than stabbing them in the back, because maybe they will help the bigger mission.
Another amazing leader, who I once had the fortune of working for, once told me: "The 1st step of leadership is to realize that you should hire people who are better than you. The 2nd step is hiring people that you can one day see yourself reporting to." It was one of the best leadership advice I have ever gotten.
Because if there is no 2nd best, no runner up, you need to have the best team full stop. At the end of the day, technology is built by people, not processes or money. A lot of tech companies have found that out the hard way.
Leadership at world class level is learnable. There is no such thing as "natural leaders" in tech. I am a living example of that.
Leadership Education
Format
1 full day for leaders - training, presentation, workshops, usually followed by dinner.

In-person format is by far the best (I fly over). Over Skype is possible.
Who is it for?
Tech companies

Individuals on exception basis
Agenda
Leadership for

Industry Creation

Billions of Users

No 2nd Best

Authenticity

Levels of conversation

Purpose and Legacy

Being of Use - the Two Janitors

Leadership Style Required:

Exercises

BHAG - Group

Individual

Role plays

Implementation

People, Skills and Capabilities

Organization

Measurement

On-on-one with Larsson
Title - Variants
Leading to Billions

Leadership for Global Industry Creation

Lead to Change the World (cheesy but popular)
I have used different titles. Happy to align with your company style if you prefer a different wording.
Do you see a fit with your needs?
For absolute clarity, this is not a general-purpose leadership training, or a management for beginners course. There are both cheaper and better suppliers for that, if that is your need.
This course is short, but I hope to give you a few more sharp tools to help you come out as the next Google instead of the the next Yahoo - or to take examples where I've played a part - as 2G GSM instead of Nortel's CDMA or Japan's PDC, as the next 3G WCDMA instead of EV-DO, the next 4G LTE instead of Intel's WiMAX, and the next 5G.
Thank you!
Anders Larsson, M.Sc.
Founder LS Future Technology AB

Formerly held the roles of
- Ericsson Head of Mobile Broadband Practice in Southeast Asia and Oceania (and India, briefly)
- Ericsson Strategic Product Manager for Mobile Data (including EDGE, enabling Steve Jobs' first iPhone)
- Ericsson CTO for Myanmar (a startup within the corporation)
P.S.
P.S. If you have read all the way here, we have a lot in common. Then definitely contact me now, e-mail LS@LSfuture.com or WhatsApp ‭+46 72 209 42 73‬ and let's talk further about your needs. Cheers.

Thank you for being here. I hope to be of service to you.